THE CHEMISTRY SET
Discography:


2012 - "Come Kiss Me Vibrate And Smile" (digital ep - dbe 04)


2011 - "DIX: Dead Bees sampler #10" (cd-r compilation - db -09)


2010 - "This Day Will Never Happen Again" (cd album - db 09)


2009 - "Dead Bees sampler #8" (cd-r compilation - db -07)
---
Website:
http://www.myspace.com/thechemistrysetuk
http://thechemistryset.bandcamp.com
http://en.wikipedia.org/wiki/The_Chemistry_Set_(UK)
---
Biography:
London Psychedelic-Pop band The Chemistry Set has quite a history. Veterans of the late 80s neo-psychedelic boom, their music received regular airplay on John Peel's show (Peel went so far as to sending the band a hand-written fan letter), featured in the mainstream and underground music press and the band appeared on the late, legendary Tony Wilson's television show, who proclaimed himself to be a huge fan of the band.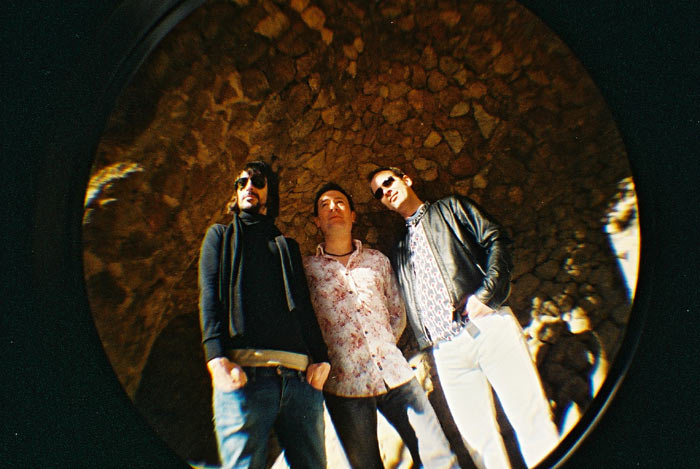 The first official release was in 1988, an eponymous cassette of bedroom demos, released on the Acid Tapes label.
This was followed by a flurry of flexi discs, (for younger readers, these were 7" floppy plastic records that used to last for about 5 plays if you were lucky!) and for a period from 1988 - 1990, it seemed that every other fanzine was including a Chemistry Set flexi disc, giving the band a healthy international fan base. In the days before the internet, the only way to find out what was going on in the world of psychedelia was through fanzines, and The Chemistry Set were being featured in these mags in the UK, Spain, Italy, Holland, Greece, Germany, Sweden, Japan, USA, Australia and New Zealand. Tracks also appeared on compilation LP's in the UK, Spain & Germany.
Their numerous releases both in the UK and abroad were accompanied by extensive tours throughout the UK, Europe and the United States. Highlights include playing the CMJ Festival in New York, Brixton Academy with Hawkwind and touring with Robyn Hitchcock, plus regular outstanding gigs at London venues like the Rough Trade record shop, The Marquee and The Borderline. In the UK, the band's single "Don't Turn Away" broke the UK Indie Top 20 the national Top 20 in Spain.
In September 1989 The Chemistry Set recorded a mini-lp (Wake Up Sometime) for Spanish label, Romilar-d. Romilar-d also released the Double A side 12" chart single "(Don't) Turn Away" and "Wake Up Sometimes".
The band spent the summer of 1990 in Spain, carrying out interviews with the press and on national and local radio and playing live. The Chemistry Set seriously considered making Spain their permanent laboratory but headed back home after a summer of promotion to sign for Imaginary Records of Manchester. The band made lifelong friends in Spain.
In 1991, The Chemistry Set released "The Candleburns", a CD/12" single for Imaginary Records…then split up.
They took a bit of a hiatus, remaining silent … until Paul Lake and Dave Mclean remarkably reappeared in 2008(!). Their return came about when their unreleased LP from 1989 "Sounds Like Painting" was uploaded onto various blogs and was downloaded over 10,000 times. This incredible return marked the first of many weird and wonderful things to happen to The Chemistry Set Mk II………..
The cult arranger/songwriter David Axelrod loves the band and made them one of his Top Friends on MySpace, alongside Eminem and Dr Dre! Lake and Mclean are massive fans of his music and they added a section of his song "Sanctus" (from The Electric Prunes "Mass in F Minor") into their new symphonic cover of Del Shannon's "Silver Birch". They sent a copy to him and he dug it so much he made them top friends.
The Chemistry Set have always loved experimenting and adding a twist to their music by inserting a cover (version) inside a cover. Their version of "See Emily Play" (for the Syd Barrett tribute "Beyond the Wildwood") has a section of "Bicycle Rider" from The Beach Boys' "Smile" inserted the middle. This version was singled out in glowing reviews, gets a mention in a definitive biog of Pink Floyd and is regularly cited as a great cover.
The re-birth generated renewed interest from Spain - the band's music appearing on twelve radio stations including Disco Grande. The Chemistry Set's previous success in the country proved to be most beneficial for their return as DJ Gato, one of the most important indie club DJs in the country (DJ at the Festival Internacional de Benicàssim), was turned onto the band the first time around when he was 14, after hearing "Don't Turn Away" on the radio and is now remixing the band's music. Also his mentor Amable supported the band's music in the 80s/90s and continues to do so. Furthermore, one of Spain's most highly regarded independent producers Manel Ibáñez approached the band to produce their EP "Alchemy#101".
Lake and Mclean (along with a little help from some musical friends) recorded and mixed the mini album in a studio on an island in the middle of the River Thames using vintage instruments (including Farfisa's & Mellotrons) but recorded it to pro-tools to get a great mix of vintage and modern sounds. The music is then mixed and produced in Barcelona by Ibáñez.
There is a French version of a song "Regarde Le Ciel" which was recorded by Suzette de la grace Faberge, a member of the critically acclaimed indie-pop band "Les Tres Bien Ensemble". There is a Del Shannon cover from his obscure 1968 LP "The Further Adventures of Charles Westover"(Shannon's real name). This LP sounds like Del's version of "Forever Changes", and Arthur Lee & Love are one of The Chemistry Set's biggest influences.
Phil McMullen (Terrascope) said "Look To The Sky" is classic daisy-fuelled English psychedelic toy-shoppe whimsy, everything I wanted to hear of the band. "If Rome Was Meant To Fall" and "Seeing Upside Down" both have that Byrdsian harmony jangle down pat, then each kicks in with a lead guitar break, just like the Long Ryders used to do (bless 'em).
"She's Taking Me Down" is arguably the strongest song on here, featuring rich instrumentation, a gorgeous guitar break and a memorable riff. The most ambitious though has to be "Silver Birch", which takes a leaf (arf!) straight out of the Zombies songbook in terms of both production and delivery.
Cover art is very important to the band and they work with a young Barcelona photographer and designer Blanca Viñas. She has been heralded as one of the most exciting talents in Spain and has agreed to work on all of the bands releases.
The EP was released in the summer of 2009 and was heralded by dozens of rave reviews and airplay all over the globe, including several plays on BBC Radio in England, 18 College Radio Stations in the USA & Canada, 12 stations in Spain and plays in France, Germany, Holland, Greece, Italy, Belgium, Sweden and Japan
"Regarde Le Ciel" was chosen by Bob Paterson of Americana radio as his "song of the year" in 2009
After the recording of the EP, Paul and Dave worked on collaboration with their producer Manel and recorded a song in Catalan. The song is entitled "La Logica del Canvi". The band sent an mp3 to the Catalan minister of culture and he sent a letter congratulating them.
Throughout the summer of 2009 Barcelona DJ Gato was busy remixing "She's Taking Me Down" and this was released as a single on the Barcelona label "Tsunami" in November. The single was played in the most important indie-clubs in Europe and featured in the top club DJ's recommended lists.
Spain's number one club DJ (#Go Mag Feb 2010) Amable asked to include "She's Taking Me Down" in his compilation CD "Razzmatazz 09" (released December 2009). The Chemistry Set are featured alongside top indie bands such as Empire Of The Sun, The Pains Of Being Pure At Heart, The Horrors and The XX.
The success of the remix single lead Paul and Dave to join forces with DJ Gato and they are currently working on remixing several more tracks for a remix CD to be released in 2010.
Working with DJ Gato also solved a huge conundrum the boys had with regards to playing live. Paul & Dave did not want to put a "pick-up" band together, so resisted calls to play gigs. They also knew that it was not possible to recreate their psychedelic sounds with a traditional guitar, bass and drums line-up. Working with DJ Gato and producer Manel Ibanez, the boys began to experiment with remixing and rearranging songs into formats that could be played live.
The fruits of their experiments came together when their first concert in many years was announced at the biggest indie club in Barcelona, Razzmatazz on 5th February 2010.
The gig was a "sell-out" (some fans travelled from Sweden and England to see the gig!) and at 02.30 in the morning Paul, Dave, Manel, Jofre and Dani took to the stage. Paul and Dave on guitars and vocals. Manel on Hammond, Jofre on Piano and Mellotron and Dani on kaoss pad, nano pad, beats and bleeps.
The Chemistry Set's Electronic-Psychedelia fitted perfectly into the live environment. The concert also featured the talents of VJ "Matrona" (whose visuals and installations have been on display in clubs and galleries in NYC, London, Barcelona and Buenos Aires). She used several projectors with custom designed visuals that filled the Pop-Bar.
On the same day of the concert The Chemistry Set performed 3 songs live and were interviewed by Julio Ruiz on his Spanish National Radio (RNE) show "Disco Grande" .
The gig impressed the European agency "Grocdog" who signed the band to the agency the following day and tours are being booked for June and October 2010 and an important gig at the prestigious "Low cost independent festival" with Placebo in July 2010 was secured.
In January 2010 the boys went back into the laboratory to record the follow up to "Alchemy#101". Entitled "This day will never happen again" and featuring 14 tracks, again produced by Manel Ibáñez, will be released in the summer of 2010.
In March 2010 they recorded a stunning version of The Rolling Stones psychedelic classic "We love you". This will be on the new album and will be played at the gigs in 2010.
The first person to play "We Luv You" on the radio was the mythical Rodney Bingenheimer on his "Rodney on the ROQ" program in Los Angeles. Pete Jackson at Dandelion Radio in the UK is currently playing the song every day on his show in April.
With the release of a new record and European gigs, 2010 promises to be quite a year for The Chemistry Set
Soundbites:
David Axelrod (Composer/Arranger/Songwriter/Genius!)
"Real music! music that makes you think and really listen to"
Peter Hook (New Order)
"They are even better the second time round"
Clint Boon (Inspiral Carpets & XFM DJ)
"The Chemistry Set are a f**kin great band"
David Cavanagh (Rock Critic)
"Someone once told me that great songs have no date stamp, and (The Chemistry Set) understood perfectly"
Garwood Pickjon (Popism)
"The omnipresent 12-string Rickenbacker jangle, occasional Syd-like quirk, and Beatlesque harmonies overload, will instantly grab B-bands fans attention, but the production and dreamy vocal delivery make the whole thing contemporary enough, for it to be taken seriously enough by moderndaze kids as well. Refering to The Stone Roses would be an easy way out, but with intelligent orchestration and eclectic arrangements, I'd rather go with their Liverpudlian soulmates, Shack"
Sounds XP (Indiezine)
'She's Taking Me Down', which is here in its original (from their Alchemy 101 album) and remixed forms. This is whimsical English psych-pop that nicks the chiming guitar riff from the Beatles' 'Taxman' (s'alright, so did the Jam). DJ Gato gives it full fuzzed up psychedelic force in its long edit (7'16") and a slightly baggy feel in the radio edit. There's also a velvety psychedelic new song 'La Logica Del Canvi', sung in Catalan. Their old psychedelia has become nu-psychedelia without losing its powerpoppy charm.
Shindig Magazine
"This six track mini-album contains their best recorded work to date. The tunes are full of dreamlike harmonies, incisive guitars and mellotron washes. The likes of "She's Taking Me Down" and "Look To The Sky" are always ambitious, inventive and highly melodic"
Nelson Bragg (The Brian Wilson band)
" Got the new EP!! It's just amazing! Every song is just so great. Congratulations Men!! All 6 songs are in fact, as you said, the best songs you've ever done"
Niklas Odin, Ettnolett Magazine (Sweden)
"Like being taken on a rollercoaster ride back to the heady days of the late eighties, with a glance or two even further backwards but with eyes peeled firmly on the future, with both the mind and music going in all kinds of directions but being held together by a shimmering vision to reach a musical nirvana"
Plastique Pop Mag (USA)
"When it comes to solid gold songwriting with an in depth 1-2 Psychedelic punch, no one does it better than The Chemistry Set. Just listening to them is like a shot of transcendental bliss. Go out and discover this goldmine today!"
Phil Mcmullen (Terrascope)
"Look To The Sky" is classic daisy-fuelled English psychedelic toy-shoppe whimsy, everything I wanted to hear of the band. "If Rome Was Meant To Fall" and "Seeing Upside Down" both have that Byrdsian harmony jangle down pat, then each kicks in with a lead guitar break, just like the Long Ryders used to do (bless 'em).
"She's Taking Me Down" is arguably the strongest song on here, featuring rich instrumentation, a gorgeous guitar break and a memorable riff. The most ambitious though has to be "Silver Birch", which takes a leaf (arf!) straight out of the Zombies songbook in terms of both production and delivery.
Randy Shone, Psychedelic Velveeta (USA)
"This EP is amazing! Each time we play them on our radio show, the phones light up with listeners, asking where they can find their music"