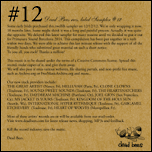 db-11 - V/A : 12: Dead Bees records label sampler #12 (cdr album)
Release date: 06/02/14.
Pre-release date: 12/12/12.
01. The Great Artiste - Heroin Love
From "Big Sounds from the Big City Vol. 1" EP
02. Helluvah - Derrida Guerilla
Previously unreleased
03. Clone Clowns - Evil
From "From Car Crash To Open Land" EP
04. Sound Sweet Sounds - Holy Songs
From "Holy Songs and Human Scenes"
05. The Temporary Thing - Diversion Girl
Previously unreleased version
06. The Heartsnatchers - Silk
From "Fall In Toulouse"
07.The Chemistry Set - Come Kiss Me Vibrate And Smile
From "Come Kiss Me Vibrate And Smile" EP
08. Daydream Machine - Poverty of Thought
Previously unreleased
09. Junkyard Birds - Death Valley Rider
From "Freewheelin' Freewill"
10. Song Of Altaïr - Mellow Dream
From "Free Jazz Music "EP
11. Dead Horse One - I Love My Man
From "Without Love We Perish"
12. Joel Gion - Overthrow
From "Overthrow"
13. The Deserteurs - 1984
From "Double Silver Disaster" EP
14. The Upsidedown - Early Clear
Previously unreleased
15. My Jacket is Yours - Your rest is my rest
Previously unreleased
16. Kingdom of the Holy Sun - Sihanouk Trail
Previously unreleased
17. International Hyper Rythmique - Stone and Dust
From "Below Sea Level"
18. Gargamel Etchevery - After Hours
Previously unreleased
19. Vibragun - Dream Disintegrate
From self-titled album
20. My Imaginary Loves - Handbook Of Concealment
From "Unemotional" EP
21. Heart of Wolves - Echoes
From "Echoes"
22. Chatham Rise - Here
From self-titled album
Notes & License.pdf
Printable CD Cover.pdf
---
THIS RELEASE IS AVAILABLE AS A FREE DOWNLOAD
where to get it?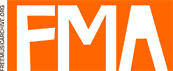 From the Free Music Archive (as MP3):
http://freemusicarchive.org/music/Dead_Bees/12Dead_Bees_records_label_sampler_12/


From the Internet Archive (as lossless FLAC):
https://archive.org/details/DeadBeesRecordsLabelSampler12
From this page, check the links above (320kbps MP3)
From The Pirate Bay and other file sharing portals
This record is available as a free lossless audio (FLAC) download from ThePirateBay.org's BitTorrent tracker.

Click this link to download the .torrent file and start downloading the music.
(You will need a BitTorrent client - such as BT, Deluge, ABC, BitComet, Azureus... )
---